IOB – Opening doors and unlocking potential: Key lessons from an evaluation of support for Policy Influencing, Lobbying and Advocacy (PILA)
An increasing number of donors have rediscovered the important role civil society plays in creating the political conditions for achieving sustainable development. The Netherlands follows this international trend. However, the role of civil society and its organizations is not uncontested and little systematic knowledge is available about the effectiveness of donor support.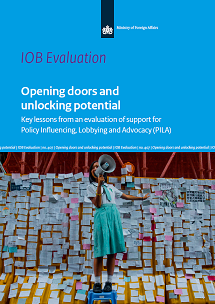 The evaluation concludes that CSOs succeed to various degrees in placing issues higher on the agenda and in influencing policy. However, influencing policy implementation, let alone impact on the ground, is far more difficult to realize. This report provides six lessons to improve effectiveness of support for PILA.