Toespraak staatssecretaris Keijzer tijdens de Euro Attractions Show 2018 in Amsterdam
Deze toespraak is alleen beschikbaar in het Engels.
Speech by Mona Keijzer, State Secretary for Economic Affairs and Climate Policy, at the Euro Attractions Show 2018, Amsterdam.
Ladies and gentlemen,

I'm so pleased that this year's Euro Attractions Show is taking place here in Amsterdam.
More than five hundred exhibitors have come to display their new attractions.

Over the next few days this event will draw more than twelve thousand visitors from more than one hundred countries.
We've never seen anything like it in the Netherlands! It's the ultimate show-and-tell.
Especially show.
All of a sudden, my kids are really interested in my job!

So, it's a pleasure to be here today.
You work in a business that makes people smile. Not many people can say that.

Let me give you an example.
Two weeks ago, I was at the opening of the annual Volendam fair.
Come rain or shine, the forecast is always 'be prepared for foam heads'.
Beer heads, that is.
The fair means party time.
There were rollercoasters, a giant Ferriswheel, and bumper cars.
It's a tradition that's been around for at least two centuries.

So it's even older than this painting from 1893!
It shows an attraction called the Turkish swing.
These days, the authorities wouldn't allow it.
It doesn't meet safety regulations.
But at the time, it was probably quite high-tech!

Volendam has always kept this tradition alive.
Everybody joins in the party.
At the fair we all become children again.
We all want to have fun together. And that's never changed.

So this is what your profession is all about: enabling people to have fun.
As outsiders, we don't often see all the work that goes into giving people a good time.
We don't think about all the safety-measures when we're enjoying ourselves.
But it's something you work on all year round.
Over the next few days, you'll be able to discuss this with your European counterparts.

The International Association of Amusement Parks and Attractions has been providing this platform for 100 years!

I'd like to express my appreciation for all your efforts in making the world of fun work.

From amusement parks to zoos, resorts and aquariums.
I congratulate the IAAPA on a century of organising serious fun.

The amusement and leisure industry is innovating constantly.
Every new social and economic trend is reflected in the conference programme:
meeting the needs of foodies;

setting sustainability goals;

there are even sessions on digital technologies, like virtual reality;

and on ensuring that data collection complies with the EU's General Data Protection Regulation, GDPR.

Fierce competition in the industry drives your innovative ideas.
It's important to surprise and delight your customers, to offer new and exciting attractions.

The Netherlands may be a small country, but it has a lot of amusement parks.
Every year, 22 million visitors visit our zoos, parks and other attractions, including the world's biggest indoor water slide, which opened recently in Hof van Saksen.
And the Dutch company Vekoma is one of the top 10 producers of rollercoasters in the world.

Your industry is also a major driver of economic growth.
You probably make up the biggest share of the experience economy, or 'retailtainment' as you call it.

An attraction can be small – like a little playground in front of a shop, which lets customers know that this business owner wants kids to feel welcome too.
Or it can be big – some amusement parks are like small cities, complete with hotels, shuttle services and shops.

But you're not only in the business of having fun. Your business is also about making memories.

I remember my first visit to Madurodam.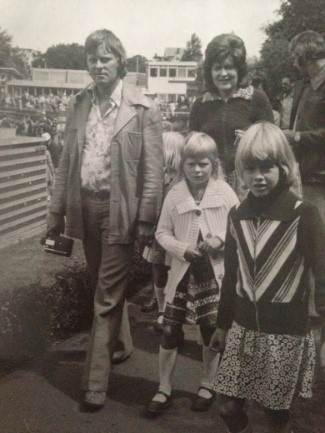 Beeld: ©Mona Keijzer / Familiearchief Mona Keijzer
That's me on the right.
My family visited all the amusement parks in Western Europe.
I've tried to do the same with my five sons.
I think they'll always remember these outings. Because I'll never forget the ones I had as a child.
Everyone has memories of a time they went to an attraction with friends or family.
Whether it's that playground next to the supermarket, or a big amusement park.


I look forward to the new ideas that will be presented over the next few days.
Ideas that will create new, lasting memories for the next generation.
I wish you a great conference and trade show. Thank you.