Openingstoespraak door minister Dekker bij het Innovating Justice Forum
Toespraak van minister Dekker (Rechtsbescherming) bij de opening van het Innovating Justice Forum in het Vredespaleis in Den Haag op 6 februari 2019. De tekst is alleen in het Engels beschikbaar.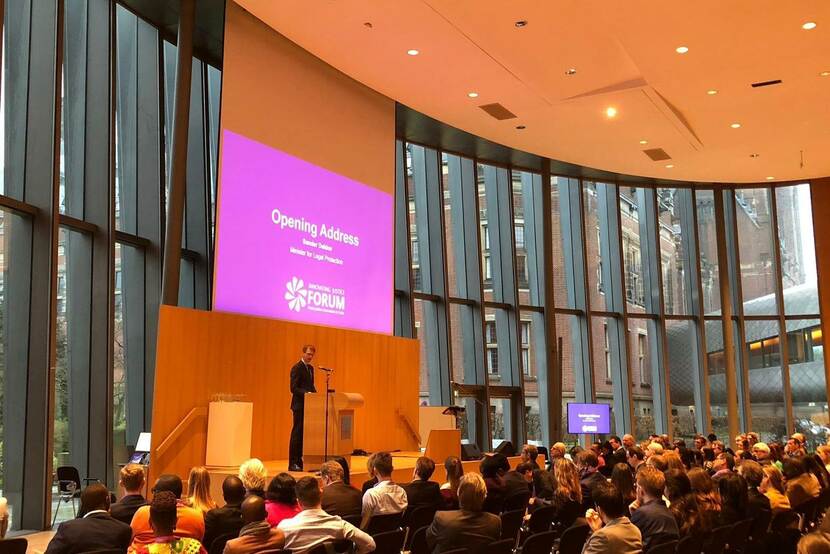 Justice journey
Your Excellencies, ladies and gentlemen,
It's an honour to welcome you to the Innovating Justice Forum and to the The Hague Academy of International Law here in the grounds of the Peace Palace.
It seems to me there is no more fitting venue for this occasion than this city, The Hague, the international city of peace and justice. Especially given the topic of this gathering: innovating justice.
I'm sure many of you are aware of my country's long tradition in this field. But bear with me while I expand on it anyway. It's sort of a second nature when you're born in this town..
The Netherlands was home to Hugo Grotius, 1 of the greatest legal minds of all time. The founder of modern international law, he was the first to formulate the concept of a global community. His book Mare Liberum – The Free Sea – published in 1609, shaped current thinking on the law of the sea and free trade. From a Dutch point of view, there was more than a little self-interest involved. As a small, open trading nation we couldn't rely on power and strength. We needed universal rules.
So we profited hugely from the open seas policies that Grotius originated. This laid the basis for our Golden Age and the prosperity we still enjoy today.
Today, the rule of law is deeply embedded in Dutch society. Our country ranks among the top in international comparisons on respect for the rule of law. We have a well-functioning, independent judiciary, and public trust in it is strong. 
But at the same time, legal proceedings tend to be complex, time-consuming and expensive. And far more important: too many people have difficulty finding practical, lasting solutions to the legal problems they face. So we feel a pressing need for innovation in our justice system.
While preparing this speech, I came across the term 'justice journey'. This metaphor speaks to me, in two ways. We are now helping people to navigate the justice system, with legal advice and help in negotiations, with mediation and assistance in bringing cases to court.
And we are also making it easier by bringing information to them. We hold walk-in information sessions in the neighbourhood, in places like libraries and community centres. We want people to be better prepared when they set out on their journey to justice.
But the justice system itself is also on a journey. More and more judges are going into the community and providing tailored solutions to problems society is wrestling with. We are looking for new ways to offer accessible, informal and lasting solutions to the common problems that people face. And in our search for solutions, we are looking beyond the actual legal dispute.
What is the background of the case? How can we help find lasting solutions to conflicts and problems that people struggle with? 
We are experimenting with problem-solving courts, youth courts and community courts in some of our bigger cities. I'm sure you'll hear much more about all these themes today.
Ladies and gentlemen,
Let me conclude. As I said, I feel we are on a justice journey. The best journeys are not about their destination. This applies all the more when the theme of the journey is: innovation.
The best innovations lie not straight ahead, but somewhere beside the road. So let's allow ourselves to wander off the beaten track and come up with new ways to help people resolve their legal problems.
Thank you.